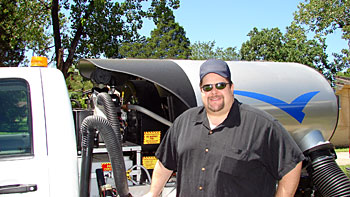 You'll find that our slogan, "The Difference Between Being Good and Being the Best!",SM is more than just words.
I'm Steve Mercer, president of Debris Free, Inc. I want you to know how seriously we take each and every one of our accounts. For me, as a small business owner, I recognize the importance that each of our clients has to our overall business success.

Nothing travels faster than a reputation for poor service. And, to my way of thinking, there's no better, more cost-effective way to grow a business than by word of mouth. I'm proud to say that our reputation is one that's very positive and that includes many satisfied customers.

The majority of our work is done at night, when most of our customers are not on the property. That's where the level of experience offered by Debris Free comes to the forefront. We are very proud of our staff, which includes some of the most highly trained and experienced power sweeper operators in the Houston area. Our employees have over 25 years of combined experience in the parking area sweeping and maintenance field.

We operate a line of newer power sweepers that are equipped with the most modernized, state-of-the art features available on today's market. This allows us to provide our customers with top quality sweeping services, as well as to provide these services in a more time-effective and cost-efficient manner. As a result, these cost-saving efficiencies are passed along to you, our customer.
At Debris Free, the buck stops with me.
If you see room for improvement with any aspect of your current sweeping contractor, allow me to offer you a free, no obligation sweep of your property. We'll accompany it with a proposal to demonstrate the old school professionalism we provide -- but at today's competitive rates. We are fully licensed and insured; for our clients' protection and security we maintain over $2,000,000 of liability coverage.

For more detailed information about our company and our philosophy of service, I invite you to take a look at the pdf handout on that topic shown to the left.
We always like to hear from our customers: Although we love hearing the positive stories about how our employees went "above and beyond" in their service to one of our clients, we also know that hearing about any negatives is even more important.
If you would like to contact me for any reason, just send a confidential email to my personal email address, steve@debrisfree.com. With Debris Free as your sweeping contractor your properties will be kept 100% debris free. I guarantee it.
Please give us a call or send us an email for a free quote or professional services consultation. You'll be glad you did.
Cordially,
Steve Mercer